For people who make websites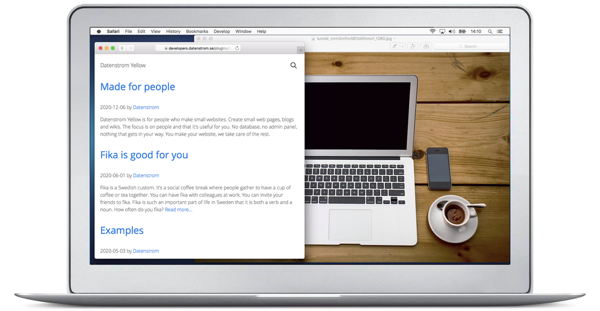 Datenstrom Yellow is for people who make websites.
Create small web pages, blogs and wikis. Download.
Fun to use
Edit your website in a web browser. Log in with your user account. You can browse your website, make some changes and see the result immediately. It's a great way to update your website. Datenstrom Yellow doesn't get in your way. Try out.
Just files and folders
Edit your website on your computer. Create small web pages, blogs and wikis. You can use your favorite text editor and change everything in the file manager. Datenstrom Yellow is a so-called content management system and a static site generator. Learn more.
Installed in a few seconds
Installing is unzipping one file and you are ready to go. Just give it a try. If you have to read the instructions first, then we have done something wrong. Datenstrom Yellow can be updated with a few clicks and your website is always up to date. Get support.